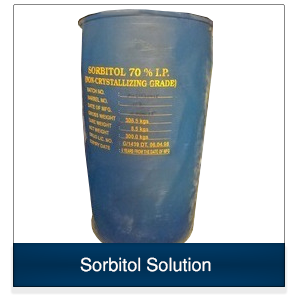 Sorbitol 70% Solution I.P
Sweetener– Sorbitol is used as a sugar substitute and bonding agent. It is referred to as a nutritive sweetener because it provides dietary energy: It is often used in diet foods (including diet drinks and ice cream), mints, sugar-free chewing gums, sugar-free candies, frozen desserts and baked goods.
Health care and cosmetic uses-Sorbitol is often used in cosmetics like Face creams, Lotions, etc as a humectants and thickener. Sorbitol is added to soaps, especially transparent glycerin bar soaps. It is widely used in oral hygiene formulation industries i.e. mouthwash, toothpaste and transparent gels as it resists fermentation by dental plaque bacteria.
Others: Confectionary, Tobacco, Textiles, Adhesives, Paper Emulsions and Paints: It is widely used in various other industries like Paper for increasing the flexibility, Tobacco wherein it gives mild aromatic fumes when smoked. Paint Industry uses Sorbitol to manufacture alkyd resin, used as binder.
Sr. No.
Tests
Specification
Observation
01
Characters
Appearance: Clear, colourless, syrupy liquid,
miscible with water
A clear colourless, syrupy liquid, miscible with water
02
Identification
A The principal peak in the chromatogram obtained
with the test solution is similar in retent on time to
the principle peak in the chromatogram obtained
with reference solution (a)
B Angle of rotation is +1.5 to +3.5
C It is clear, syrupy liquid at a temp. of 25° C
Complies with I.P. 2014
03
Appearance of solution
The solution is clear & colorless
Complies with I.P. 2014
04
Conductivity
NMT 10 µs/cm
1.824 µs/cm
05
Reducing sugars
Maximum 0.2%
0.154% w/w
06
Reducing sugars after
hydrolysis
Maximum 9.3%
6.24% w/w
07
Lead
Maximum 0.5 ppm
Less than 0.5 ppm
08
Nickel
Maximum 1 ppm
Less than 1 ppm
09
Water
Between 28% to 32%
29.34% w/w
10
Assay
A D-glucitol (on anhydrous basis)

B Assay (as anhydrous sub.)

—

Between 72% to 92%

Between 68% to 72%

—

85.66% w/w

70.66% w/w